Hola temen2 prog ku yang tercinta …..!!
Apa kabar? Gimana ibadah di bulan Ramadhan 1432H? Semoga berjalan lancar dan mendapatkan ridho dan rahmat dari Allah subhanahu wa ta'ala. Amiin.
Sori banget jadi jarang posting karena banyak gawean nih ….he he he ….alasan klasik. Namun ngeprog jalan terus dong. Belakangan ini saya banyak menikmati band2 70an seperti Strawbs, Museo Rosenbach, dan juga NEKTAR. Nah, band ini sebenernya legendaris karena di jaman Aktuil sering masuk diulasan majalah nuansamatik tersebut. Tak hanya itu, salah satu lagunya bertajuk "Fidgety Queen" (1974) dari album "Down To Earth" pernah masuk dalam kompilasi kaset keluaran Aktuil "Rock Vibration 2″. Itulah lagu pertama yang saya kenal dari NEKTAR yang dulu sering diplesetin dengan "Nenek Gemetar" (ha ha ha ha ha ….ono2 wae cah Mediun ….ha ha ha ha ha ha ha …). Setelah itu saya beli kaset (lupa rekaman apa) Nektar album "Recycle" yang menurut saya musiknya melayang.
Kali ini saya menikmati album "Remember The Future" dan sempat menulis di progarchives. Saya bilang apa? Meski sibuk ngeprog jalan terus … Kalau gak nulis review rasanya pikiran bunthet, gak bisa membuat rekomendasi di pekerjaan saya sebagai konsultan … Makanya meski sibuk tetep asay tulis reviewnya. Selamat menikmati ya ….
Bagaimana pengalaman Anda dengan NEKTAR?
Salam,
G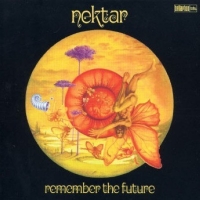 Studio Album, released in 1974
Songs / Tracks Listing
1. Remember the future (part I) 16:38
a) Images of the past
b) Wheel of time
c) Remember the future
d) Confusion/
2. Remember the future (part II) 18:55
e) Returning light
f) Questions and answers
g) Tomorrow never comes
h) Path of light
i) Recognition
j) Let it grow
Total Time: 35:33
Bonus Tracks:
3. Remember The Future (edit) 9:51
4. Lonely Roads (single edit) 3:50
5. Let It Grow (single edit) 2:19
Lyrics
Search NEKTAR Remember The Future lyrics
Music tabs (tablatures)
Search NEKTAR Remember The Future tabs
Line-up / Musicians
- Roye Albrighton / lead vocals, guitars
- Mick Brockett / lights 
- Allan "Taff" Freeman / keyboards, backing vocals 
- Ron Howden / drums, percussion, backing vocals 
- Derek "Mo" Moore / bass, backing vocals
Releases information
CD. Bellaphon 289-09-001 (1989)
CD. Dream Nebula DNECD 1204 (2004) with bonus tracks
Review by Gatot
SPECIAL COLLABORATOR Honorary Collaborator

Very good album from the 70s …
This classic album by Nektar was quite phenomenal by the time it was released. Unfortunately I did not pay enough attention to the album as by that time I was quite "busy" enjoying the music of Genesis whom at the same year released concept album as well 'The Lamb Lies Down on Broadway' and also other bands like Pink Floyd, Gentle Giant, Yes, King Crimson. Ranked against other bands like I mention, Nektar was not in priority list to listen. So, I only played the album occasionally. Yes, Nektar was quite famous at that time because one of its songs was featured in a compilation cassette 'Rock Vibration 2′ published by local magazine Aktuil. Most people who live in the 70s in my country knew very well Nektar at least from that compilation cassette.
'Remember The Future' is a very good album as the music flows nicely from every segment in the fisrt epic continued beautifully to the next epic (part2) of the music. The music is quite predominated by psychedelic sort of style even though there are some passages with classic rock style – especially the guitar part. There are changes of style as well as tempo as the music moves but most of them are managed smoothly so that we don't hear any sudden or abrupt changes in mode or style. If you like the kind of 70s music, of course you will enjoy this album as well. When it comes to taste, I'd better like the second part than the first. I can imagine if I have the vinyl, I might play the side 2 more than the side 1. But in digital era, we are so fortunate that we can enjoy the two parts like one cohesive whole. Now, talking about cohesiveness, this album has it all because you can taste the music nicely from start to end without being shocked by unplanned changes in styles or moods. Well, you can feel so during the part 2 of the album as the music moves in crescendo at approximately minute 8 of the part 2 music. There are some guitar fills that remind me to Steve Hackett as well even though they sound simpler than Hackett's. You can find also Floydian guitar work at this Part 2. It's enjoyable, really.
When this album is compared to 'Lamb Lies Down' or 'Dark Side of The Moon' or 'Close to The Edge' or 'Thick as a Brick' it's less challenging. However, I still consider this is a very good album from Nektar from its 70s archive. If you love prog music in 70s, you must have this album. 3.5 out of 5 stars. Keep on proggin' …!
Peace on earth and mercy mild – GW