Mumpung album ini disinggung oleh mas Hippienov, saya langsung posting aja di sini. Memang cukup aneh, debut album Hackett ini tak dikeluarkan full-album oleh Yess, tapi hanya sebagai side B dari Anthony Phillips. Secara musikalitas album Voyage ini lebih bagus dari pada The Geese and The Ghost nya Anthony Phillips. tapi ya begitulah sejarah …. Mau diapain lagi … Kita telen ajalah ….
Saya inget sekali saat nonton Uriah Heep di Bandung, ada beberapa band pembuka lokal dari bandung. Salah satunya adalah band yang menamakan dirinya G'Brill dimana salah satu pemainnya adalah Yuke Semeru. Keren nih pemain bass guitar yang satu ini … Gak tahu lagi dia dimana sekarang. Saya ingat mereka membawakan lagu keren "Ace of Wands" yang merupakan track pembuka album Voyage ini.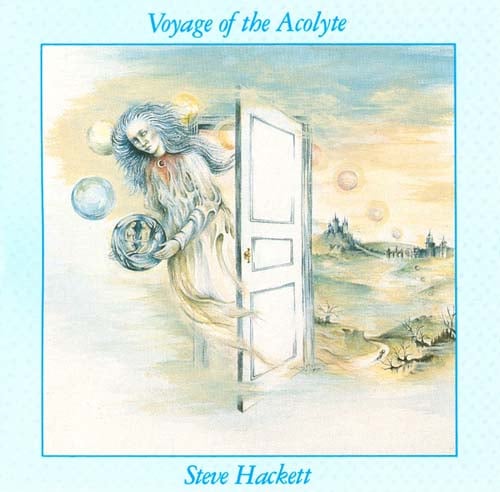 Studio Album, released in 1975
Songs / Tracks Listing
1. Ace Of Wands (5:23)
2. Hands of the Priestess Part I (3:28)
3. A Tower Struck Down (4:53)
4. Hands of the Priestess Part II (1:31)
5. The Hermit (4:49)
6. Star of Sirius (7:08)
7. The Lovers (1:50)
8. Shadow of the Hierophant (11:44)
Total Time: 40:52
Lyrics
Search STEVE HACKETT Voyage Of The Acolyte lyrics
Music tabs (tablatures)
Search STEVE HACKETT Voyage Of The Acolyte tabs
Line-up / Musicians
- Steve Hackett / electric & acoustic guitar, Mellotron, harmonium, bells, autoharp, vocal, effects
- John Hackett / flute, Arp synthetizer, bells
- Mike Rutherford / bass guitar, bass pedals, Fuzz 12-String
- Phil Collins / drums, vibes, percussion, vocals
- John Acock / Elka, Rhapsody, Mellotron, harmonium, piano
- Sally Oldfield / vocal
- Robin Miller / oboe, cor Anglais
- Nigel Warren-Green / solo cello
- Percy Jones / extra bass on "Tower"
- Johnny Gustafson / bass on "Star"
- Steve Tobin / parrot and cough
Releases information
LP Charisma-CA-1-2170-Can-1975
CD Virgin-CASCD 1111
Ini review saya di progarchives:

It's hard to argue with this excellent debut album from the guitar maestro Mr. Stephen Hackett. When I reviewed his live archives album couple months ago, I did mention that for some of you, you might have known Steve only from his tenure with Genesis and probably still label him with something like "ex Genesis guitarist" and you might not know what his work after he left the band. Nothing wrong with that. That's the same case with me when I got the cassettes of his first two albums, I still considered Steve as Genesis guitarist instead of Steve as a solo artist and did not play the cassettes intensely. Until one time when a support band of Uriah Heep Live in Bandung, Indonesia sometime in 1980, there was a local band that played Steve Hackett's "Ace of Wands" excellently. It clicked me to replayed the cassette. That's the first love I got with Hackett music. I was hooked with "Voyage ..", "Please Don't Touch", "Spectral Morning" and "Defector". For me, Steve has produced many great prog tunes that I consider now as a classic, such as: "Every Day", "Star of Sirius", "Ace of Wands", "Narnia", "Clocks", "Shadow Of The Hierophant", and many more great tunes. "Ace Of Wands" is a great track – and has become my favorite track – started with a dazzling drum. The intertwining works of guitar, keyboard and flutes are really good. Oh man . this is a wonderful track and it's so uplifting.
Being a debut album, it's heavily influenced by early Genesis – not that two members of Genesis (Mike Rutherford and Phil Collins) contributed, but musically I can sense the flavors of "Supper's Ready" in "A Tower Struck Down" (track 3). You won't argue that the rhythm section is totally Foxtrot-ized. Nothing wrong with this. I especially like this track during the keyboard solo – it's stunning. Stand-alone, this third track is probably not an attractive one but as this track is positioned in between "Hands of the Priestess Part I (3:28) and Part II (1:31)" with mellow Genesis guitar style, it becomes interesting to enjoy. The Hermit (4:49) continues the same style and nuance with Hands of the Priestess with Hackett on vocal. Phil Collins takes a vocal role in the next track "Star of Sirius" (7:08) that starts mellow with good guitar fills and keyboards. The music turns into faster tempo with drums and other instruments.
The peak of this album, IMO, is "The Lovers" (1:50) – "Shadow of the Hierophant" (11:44) whereby the first part serves similar to Horizon of Genesis' "Supper's Ready": an acoustic guitar work augmented with mellow keyboard. The music continues seamlessly to "Shadow of the Hierophant" with a blues-based rhythm and nice quieter passage where fabulous voice of Sally Oldfield enters the music. Uh . it's really cool man .. In a way, it reminds me to Renaissance's music – not because the lead singer is female but it shares similar nuance. In fact, Sally and Annie Haslam have different timbre – so both cannot be compared. But the song is really great and I now remember that this song was featured in a compilation cassette of "Heavy Slow" sometime in the eighties. It's a great tune.
In summary, this is the kind of classic prog album that you don't want to miss. Excellent composition and musicianship. Highly recommended. Keep on proggin' .!
Progressively yours, GW
"Lost in thought in search of vision. As the moon eclipsed the sun." – "Shadow of the Hierophant" by Steve Hackett.