JREnG!
Ngomongin 70an, bahkan akhir 60an, rasanya gak klop kalo belum memasukkan RENAISSANCE ke dalam pokok bahasan karena bagaimanapun juga band ini adalah sempalan sari The Yardbirds juga. Setelah Yardbirds bubar di awal 68, drummer Jim McCarty dan gitaris / vokalis Keith Relf membentuk TOGETHER, sebuah kelompok akustik. Dalam tempo singkat TOGETHER berubah nama menjadi RENAISSANCE pada tahun 1969 awal dengan tambahan musisi John Hawken (kibor), Louis Cennamo (bass) dan Jane Relf (vokal). Debut album ini menentukan arah musik RENAISSANCE selanjutnya….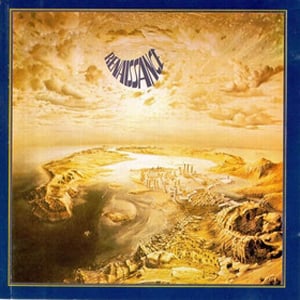 Studio Album, released in 1969
Songs / Tracks Listing
1. Kings And Queens (10:55)
2. Innocence (7:05)
3. Island (5:57)
4. Wanderer (4:00)
5. Bullet (11:24)
Total Time: 39:21
… Bonus tracks on Repertoire and Renaissance cd releases:
6. Island (single)
7. The sea
… Bonus tracks on Mooncrest cd:
6. The Sea
7. Island (single)
8. Prayer for light
9. Walking away
10. Shining where the sun has been
11. All the falling angels
Lyrics
Search RENAISSANCE Renaissance lyrics
Music tabs (tablatures)
Search RENAISSANCE Renaissance tabs
Line-up / Musicians
- Keith Relf / vocals, guitar, harmonica
- Jim McCarty / percussion, vocals
- John Hawken / piano, harspichord
- Louis Cennamo / bass guitar
- Jane Relf / vocals, percussion
Releases information
CD Renaissance RMED 00167 (USA 1997)
Review GW di progarchives:
Following the break-up of The Yardbirds in early 1968 drummer Jim McCarty and guitarist/vocalist Keith Relf formed TOGETHER, an acoustic based group. This short lived then became RENAISSANCE in early 1969 with the addition of John Hawken (keyboard), Louis Cennamo (bass) and Jane Relf (vocal). So, this is the PRE ANNIE HASLAM period of the band. Musically, I would say this debut album has significant contribution in laying strong foundation of progressive rock music altogether with King Crimson, ELP, Yes, Genesis and Pink Floyd. RENAISSANCE has its own identity than the others. This debut album sets an important milestone for RENAISSANCE music direction in the future.
The opening track "Kings and Queens" proves to be the landmark for future releases of the band. The structural composition of this song is of relevance with later releases compositions. This track is heavily influenced by classical music through its piano sound at intro part. It's a wonderful and dynamic piano play at intro. The drumming section enters nicely altogether with acoustic guitar fills. When the drumming style change to a jazzy kind of beat it reminds me to JON LORD's solo album "Sarabande". (Hey, this album should be in Progarchives page. It's definitely prog!). You may observe and compare it on the musical segment just before the male vocal enters the scene. I like the drumming style and piano when they accompany vocals. So dynamic. One other thing is that this track is melodious. This track is really prog to the corner! Yeah, it's a beautifully crafted song, I think!
"Innocence" has simpler composition than the first track. Piano still dominates the music. It has some jazz and blues component in its composition. Are you aware of Dutch's blues band CUBY + THE BLIZZARDS? If so, this track is composition-wise similar to the works of CUBY. I like the piano solo in the middle of this track. Excellent! (This piece has influenced the music of my home country band BADAI). The end part of this track reminds me to the musical nuances of King Crimson's "Lizards".
"Island" is again an acoustic guitar and piano based song with female vocal of JANE RELF as lead with male vocal as backing. The bass guitar play is dynamic throughout the track. Stunning. The inclusion of piano solo in classical style has made this track more attractive. "Wanderer" is a more uplifting track with great piano and harpsichord sounds. I like the melody of harpsichord just before and during the singing of JANE RELF. It reminds me to the kind of RICK van DER LINDEN of TRACE music. It's not the same, but the musical nuances are similar. This track has great melody!
The album is concluded fabulously with an epic track "Bullet" with 11:24 minutes duration. Again, the band gives a wonderfully crafted composition. This time the opening sound of piano is set to welcome the latin-like voices. KEITH RELF takes the lead vocal function backed with jazzy piano and drumming style. The overall composition of this song is more of in an avant-garde music, I think. It has high and low points with some musical exploration of sounds at the end of the track. I think this album is a masterpiece. My CD is a Repertoire version with two additional tracks: "The Sea" and "Island". Sonic quality is of 70s recording. I highly recommend you to purchase this CD.
Gatot Widayanto, Indonesia.