JRENG lagi!
Ceritanya saya beberapa bulan lalu ujug2 mak gedhandhut – ora ono opo, ora ono angin ribut, ora ono jam dinding sing owah – saya terima SMS dari nomer yang tak terdaftar di ponsel saya dan tak menyebutkan siapa pengirimnya. Yang pasti SMS tersebut bertutur tentang kecintaan si pengirim terhadap musik PROG. Wah, langsung rambutku njegrag lan adrenalinku muncrat karena sesama pencinta prog. SMS selanjutnya sang pengirim menulis identitasnya. Dia adalah pencinta prog dari nJombang, dimana nDiwek berada di sekitarnya. Namanya mas Edi. Karena ndak ada nama panjangnya, maka nomer tersebut langsung saya simpen aja di ponsel saya dengan nama Edi Prog Jombang. Gak percaya? Siniyo ….ntar tak duduhi ponselku ada nama ini …kuak kak kak kak kak …
Sejak itu saya sering SMSan sama beliau sekaligus mengajak beliau komentar di blog gemblunk ini. Beliau mau komentar asal grup prog baru dibahas di blog ini. Lha kok ndilalah to yo …kemarin itu saya lagi pasang lagu epik kesukaan saya selain Gates of Delirium atau Supper's Ready, yaitu Humanizzimo dari album The Flower King karya Roine Stolt. Makanya saya bikin aja tret ini.
Whooaaa… Humanizzimo adalah komposisi musik prog yang dahzyat dimana Roine Stolt begitu cantiknya meramu unsur jazz, psikedelik, blues dan rock menjadi rujak cingur nan indah dan bikin sukma menjadi klametan terus-menerus menikmati alunan indah melodi maupun komposisinya. Doahzyat nih lagu… Sangat pantas disandingkan dengan Gates of Delirium maupun Close To The Edge.
dengan alunan merdu musik bernuansa jazzy dibalut dengan permainan kibor halus nan nunjek ulu ati, musiknya berherak lambat mengantarkan vokal untuk masuk. Selanjutnya musik bergerak menuju tingkat kerumitan lebih tinggi namun pola melodinya masih tertata dengan manis dan "siul-able".  Wis pokoke dijamin ngguweblak kalau denger lagu ini. Kalau gak nggeblak berarti udah gak punya hati nurani. Itupun kalau lagu udah habis maunya dimainkan ulang saking indahnya. Udahlah pokoknya mendengarkan kuliah humaniora ala Stolt di album ini sungguh sangat nikmat.
Oh ya, ngomong-ngomong apa ada yang tahu siapakah Stolt itu?
Itu baru satu lagu dari album The Flower King, sedangkan lagu lainnya juga nyamlenk kumamplenk tenaaan … Gak percoyo jal? silakan simak reviewku di progarchives: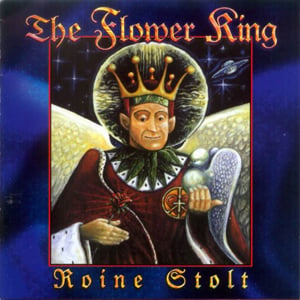 A True Masterpiece!
"We believe in the light we believe in love, every precious little thing. We believe you can still surrender, you can serve the Flower King".
Well . where have I been man? How come I only knew the power of this album only couple of days ago? It's a pity because I have been collecting every album of The Flower Kings (the band) from "Back in The World of Adventures" until the last one "Adam and Eve" – and is now expecting "Paradox Hotel" and never pay any attention to this album? And now I realize that "the Flower King" album is truly the basis, the foundation, of what The Flower Kings (the band) music is going to sound like. I know exactly why I never pay any attention to this important album – because I never owned it, it happened that I borrowed the CD from my prog colleague and had no time to enjoy it. But when I purchased the CD couple of weeks ago .. oh I was amazed with the music even at the first time I spun the CD. It blew me away! It's a true a masterpiece prog album.
This album offers great music from opening track "The Flower King" until the last one "Scanning The Greenhouse" (which later became the title of The Flower Kings compilation album) with various styles combining jazz, rock and a bit of blues in its composition. Musically, it's nothing different at all with the music of The Flower Kings (the band). Roine Stolt is one of great and talented prog musicians.
The opening track "The Flower King" (10:28) is probably the most accessible piece of music this album offers because the music is quite straight forward with a blues based rhythm section. The power of this track is on its nice melody that makes the listeners emulate the segment especially during chorus line "We believe in the light we believe in love, every precious little thing. We believe you can still surrender, you can serve the Flower King".. Oh . what an excellent segment! Even though there is practically little variation in terms of tempo changes but this track is good enough to pump up our prog soul especially during stunning guitar solo. The intertwining Hammond sound played by Roine Stolt is also enjoyable.
"Dissonata" (9:57) is a logical continuation of the opening track where the song starts with nice soft keyboard work with Hackettian style guitar at the background. The music enters in relatively medium tempo where the excellent vocal line is accompanied with howling guitar wonderfully played by Roine Stolt. The music seems ambient during opening part but it moves smoothly into a symphonic prog composition with good combination of guitar and keyboard.
"The Magic Circus of Zeb" (7:05) is a track with faster tempo, led by the stunning guitar work combined with the work of xylophone. As the sleeve mentions there are only two musicians play this track: Hasse Bruniusson on TAMA Artstar Drumkit while Roine Stolt does the rest: Gibson ES175, Les Paul Goldtop & IBZ guitars, Shergold Bass and keyboards. It's an excellent instrumental track exploring guitar and keyboard.
"Close Your Eyes" (3:10) is a one man band where Roine Stolt plays all instruments and also sings. Through this track he seems to provide a sort of musical break because the track is mellow and slow in nature.
"The Pilgrims Inn" (9:11) kills me really! From its touchy opening – combining a very nice and smoothly played soprano sax, guitar and flute-like sounds which probably played through keyboard – this song brings me to the ultimate musical orgasm. Oh man .. The melody, the combined sounds of soprano sax and stunning guitar sounds have made me truly "stunned". No no no .. I'd rather use my local term here . nggeblak! Yeah man . my mind really paralyzed when I enjoy the beauty of all instruments played here. In a way the nuance of this song reminds me to "Starless and Bible Black" of King Crimson and the flute-like sound reminds me to the music of Sinkadus. Nothing similar musically but the nuance! (please don't get me wrong). The guitar solo augmented with soprano sax is killing me. The ending part of this track seems like "disjointed" from the original tagline melody. But the more I listen to this track, it grows on me and I accept the change of style started with acoustic guitar.
"The Sounds of Violence" (5:53) demonstrates how Roine can play great keyboards with Hammond sound. It reminds me to ELP but the style is truly The Flower Kings (band) style. I like the pulsating keyboard sound combined with guitar work. Not only that! The melody is really touchy! It's a great instrumental track.
"Humanizzimo" (20:55) is to me like Yes' "Close To The Edge" or "The Gates of Delirium". Not because of the duration of this track is very close with Yes' but it's more on the structure and style. The opening part with soprano sax combined with stunning guitar is really a thread for me. This is the kind of music that kills me! Especially when the vocal starts to enter the music "Midnight, you take me down to the waters. Slowdown, I've seen too much and too soon .". Oh my God . this is really good. As an epic with seven parts this track offers a blend of styles with many tempo changes from one part to another. All parts form the overall music cohesively. It's a great epic.
"Scanning the greenhouse" (3:32) concludes the album with memorable segment of "the flower king" put into the music, i.e. the part with "we believe in the light ..etc.".
Overall, it's highly recommended. For those of you who claim The Flower Kings (band) fans must have this album. I don't have any clue of not giving this album with a full five stars rating. Keep on proggin' .!
Peace on earth and mercy mild, GW
—————————————————–
Studio Album, released in 1994
Songs / Tracks Listing
1. The flower king (10:28)
2. Dissonata (9:57)
3. The magic circus of Zeb (7:05)
4. Close your eyes (3:10)
5. The Pilgrims Inn (9:11)
6. The sounds of violence (5:53)
7. Humanizzimo: (21:05)
a) Twilight flower
b) The messenger
c) The nail
d) Only human
e) This is the night
f) The flower of love
8. Scanning the greenhouse (3:32)
Total Time: 69:53
Lyrics
Search ROINE STOLT The Flower King lyrics
Music tabs (tablatures)
Search ROINE STOLT The Flower King tabs
Line-up / Musicians
- Roine Stolt / lead voice (1-2,4,7-8), guitars, (all), bass (1-3,5-8), keyboards (all), percussion (3-4,7-8)
- Hans Fröberg / vocals (1,8)
- Ulf Wallander / Soprano saxophone (5,7)
- Hasse Brunisson / drums (3,5,7-8), percussion
- Jaime Salazar / drums (1,2,6), percussion (2,6)
- Dexter Frank Jr. / keyboards, electronics
- Don Azzaro / bass guitar & Moog Taurus
Releases information
CD Foxtrot FOXCD 011 (Sweden 1994)
CD Inside Out Music IOM 052 (1998) SPV Records 085-31822
CD Inside Out TACS 003 SPV 087-31828 'The Artwork Collector´s Serie' (2004)
All CD´s in this series coming in a special 7″ sized
cover and include a poster and postcards.
This CD is strictly limited and numbered to
only 3000 copies worldwide. A true collectors item.