Mari berjadoel ria lagi …!!!
Moengkin kelompok ini soedah tak asing lagi bagi kita. Moengkin djoega ini salah satoe alboem terbaiknja. Bener gak sih?
JRENG!
Salam,
G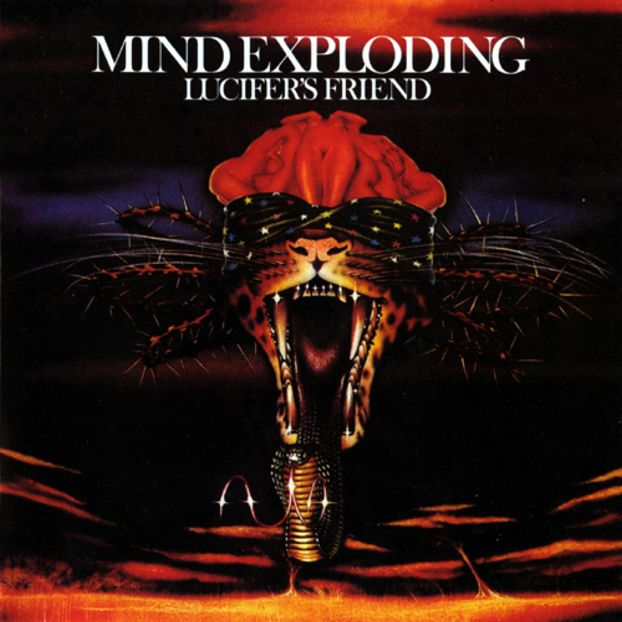 Studio Album, released in 1976
Songs / Tracks Listing
1. Moonshine Rider
2. Blind Boy
3. Broken Toys
4. Fugitive
5. Natural Born Mover
6. Free Hooker
7. Yesterday's Ideals
Lyrics
Search LUCIFER'S FRIEND Mind Exploding lyrics
Music tabs (tablatures)
Search LUCIFER'S FRIEND Mind Exploding tabs
Line-up / Musicians
- John Lawton / vocals
- Peter Hecht / keyboards
- Dieter Horns / bass, backing vocals
- Peter Hesslein / guitar, backing vocals
- Curt Cress / drums
- Herbert Bornhold / percussion
Releases information
1976 German Vertigo or US Janus
Ini review saya di progarchives:
It's a pity that no one has ever reviewed this powerful album. First of all I never realized that this band would be under prog music basket. What is prog, anyway? History-wise it might be OK to label this album under what so called prog rock music. Why? This album was actually the band's answer to music trends that happen sometime mid seventies where mainstream rock bands such as Deep Purple, Led Zeppelin were dominating the charts. Backed by an English speaking vocalist John Lawton and other Germany's great musicians (especially the bass guitar player) made up this excellent album.
Well, actually I used to listen to this album (best of other albums of this band, I think) in classic rock mind. But I think, it's not a typical classic rock album for this. I can sense it from the music compositions that vary dynamically. "Moonshine Rider" is an energetic rock opened with nice piece combined with piano. The bass playing so dynamic and sets the tune of the track. Lawton voice is really top class. He's a true rocker. This track rocks!
"Blind Boy" to me is a typical mainstream classic rock music with a bit of rock'n'roll. But .. don't get me wrong because when it enters the interlude, there is a prog bit here. Something that not every classic rock band has ever created. "Broken Toys" is nice, especially in its melody. Excellent acoustic guitar. The chorus reminds me on my childhood.
"Fugitive" is one of my favorites in this album. Opened with a stormy and rain sound followed by dynamic bass guitar playing and then vocals part. This track has caused my adrenalin to explode! I mean it. Listen to how the bass guitar is played throughout the entire track; great keyboard playing, and observe how Lawton sings . uuuuhhh . very nice! Galileo! I cannot afford not to repeat this track mannn .. It rocks the world! The track ends nicely with solo keyboard.
"Natural Born Mover" is another high energy and nice track. Again, bass playing is great throughout the track. And also the guitar that creates nice sound distortion. Solo guitar at the interlude part is great, backed by nice piano and keyboard sound. This track is bit complicated but very nice.
The last two tracks "Free Hooker" and "Yesterday's Ideal" are also excellent. Again, look at how dynamic the bass guitar part is! These two tracks, probably, that justify this album categorized under prog rock scheme. What is prog, anyway? But these two tracks are top class! "Yesterday's Ideals" has a very nice narration voice at intro part.
Overall, for those of you who like a high energy, upbeat prog music, this probably fits you. Caution only for those who love mellow neo prog that might not like this album. For me personally (I love neo and symp prog) this album is top class! What do you think? – Gatot Widayanto, Indonesia.
Send comments to Gatot
(BETA) | Report this review (#28933) | Review Permalink
Posted Thursday, June 03, 2004