JRENG!
Kembali ke pitungpuluhan dengan album legendaris yang merupakan perkenalan pertama kali bagi saya dengan kelompok Amrik yang namanya STYX (bacanya: Stiks! bukan sok tahu dibaca es-ti-wai-eks yang jelas ngawur itu karena ini nama bukan singkatan, tauk!). Pertama kali kenal band ini ya dari kaset Maxell UD C60 rekaman dari plat milik radio Geronimo Yogya yang direkam oleh kakak saya, Henky, yang pernah jadi penyiar di radio paling beken di Ngayogyokarto itu. Pada saat bersamaan saya juga punya kaset kompilasi Prambors Hits II dimana ada lagu "Christopher Mr Christopher" nan legendaris dan ngetop di kota Madiun di saat itu. Maka lengkaplah, saya menyukai album ini.
Sebetulnya gak semua lagunya enak tapi ada yang asik banget yaitu "A Song for Suzanne", "Evil Eyes" dan tentunya "Christopher Mr Christopher". Namun bila dinikmati satu album secara penuh, rasanya jadi "ngemplang" sukma dan nunjek ulu ati. Apalagi ini album memorable nostalgik nuansamatik …wis jan ngguweblak tenan!!!!
Studio Album, released in 1974
Songs / Tracks Listing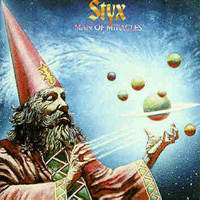 1. Rock & Roll Feeling (3:02)
2. Havin' A Ball (3:53)
3. Golden Lark (3:23)
4. A Song For Suzanne (5:15)
5. A Man Like Me (2:57)
6. Lies (2:45)
7. Evil Eyes (4:02)
8. Southern Woman (3:10)
9. Christopher, Mr. Christopher (4:02)
10. Man Of Miracles (4:55)
Total Time: 37:24
Lyrics
Search STYX Man of Miracles lyrics
Music tabs (tablatures)
Search STYX Man of Miracles tabs
Line-up / Musicians
- John Curulewski / guitar, arp, vocals
- Dennis DeYoung / keyboards, arp, vocals
- Chuck Panozzo / bass
- John Panozzo / drums, percussion, vocals
- James "JY" Young / guitar, vocals
* Additional musicians on this album:
- Barry Alan Fasman / string arrangement -"Golden Lark" & horn arrangement – "A Man Like Me"
Releases information
RCA 3115-2-R
Updated on 23 Feb 08
"Man of Miracles" was my first introduction to Styx. It was my big brother, Henky, who was a rock broadcaster in a radio station (Geronimo) based in Yogyakarta, Indonesia. When he returned back home to my small town where I lived with my mother he always brought me a tape from rock groups. One of them was STYX "Man of Miracles" whom the name I had never heard before and it sounded weird to me. But when I played the cassette tape, I was amazed with the music which to me sounded simple but it rocked especially when I heard "A Song for Suzanne" for the first time. In fact this was my first in love with STYX! Later I realized that another track "Christopher Mr Christopher" became a major hit in Indonesia.
This is definitely NOT a prog album as the music is a straight rock music. However, this is an excellent rock album. "Christopher, Mr. Christopher" was then a hit in my country in mid of 70s. It's a very nice pop rock song with good keyboard and guitar works. This song is very "nostalgic", I would say. It's a kind of music you'd like to enjoy while sipping a cup of starbuck's coffee lathe. Uugghh … what a nice break! I am sure that it was Prambors radio who made the song so popular in Indonesia. In fact, the song was then used by local youngsters in my small town Madiun to name their gang with "Christopher" name. The uniqueness of this youngsters gang was that all members' motorcycles were all painted white with red stripe. What a memorable thing for me! But again, the song itself is very melodic especially the song ambience at intro part where the guitar and drums work together beautifully. The first lyrical verse was very famous in my small town Madiun where youngsters at that time always sing together: "I remember Christopher / such a man / so brave and tall. He took the baby Jesus / in his arms / across the waterfall ." WOW man! What a memorable moment (I used to term it as "nuansamatik").
The other tracks of my favorites are: "A Song for Suzanne" (nice intro part), "Lies", "Evil Eyes" (this is really great track! Especially on the melody and vocal line, combined with music ambience which supports the song), "Man of Miracle" (great organ work) and "Southern Woman" (energetic rock), "Golden Lark" (mellow track with an excellent piano). Styx strong point is in its vocal. Recommended, even for a new starter (those who have not listened to STYX music). To me, the first two tracks are not enjoyable. However, this album is best enjoyed in its entirety. If you enjoy song by song you may find difficulties to absorb the two first track. Rating 4/5. Gatot Widayanto, Indonesia.