JRENG GEMENJRENG…!!!!
Whoooooooaaaaaaaaa…!!! Akhirnya berhasil juga mereview album yang udah berhari-hari ini saya nikmati sambil 'fly me to the moon' dan 'comfortably numb' lantaran musiknya mendayu-ndayu tenan jek! Udah gitu sound nya bener2 70an buanget dah! Udah pernah denger rekaman band kayak Cactus atau Mountain? Atau paling gak ya Led Zeppelin 'Physical Graffiti' gitulah .. Ya begitulah kualitas suaranya. Suara drumnya 'kemlothak' gak empuk blaszz ..treblenya juga pelitnya minta ampun, bassnya kering …ditambah suara gitar yang bindhenk plus sayatan mellotron yang mengiris ulu ati, menyayat dodo menthok bikin ngguweblak nggulung koming ping kopang kaping nganti sikil keplintir nyangkut nang godhong kenikir.
Pokoknya kalo Anda masuk golongan penggemar prog ala Dream Theater atau Porcupine Tree ditanggung kuciwa berat sama kualitas rekamannya. Lha ….syukur Alhamdulillah wal syukurilah, saya ini hidup dari jaman kaset bajakan seharga seribu tiga. Jadi yang namanya bunyi 'kemlothak' ndak karuan dan gitar suara bindhenk itu mah biasa bahkan menambah suasana 'nunjek' lebih bermakna lagi ….wis jan pokoke nuansamatik. Apalagi melodinya lagu 'The Weirding' itu ndak kalah 'catchy'nya dibandingkan dengan 'Epitaph'nya King Crimson. Ndak percaya? Coba aja!
JRENG!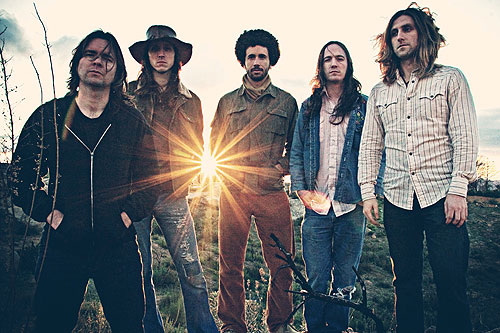 When past limitations brought forward as a theme …
I grew up in poor family where I could not afford to buy a vinyl. As my passion in rock music was very high, I occasionally purchased music cassettes sold cheaply in small town, Madiun – East Java – Indonesia, the place when I penetrated rock spirit into my head and my heart. Of course it's not the best media as you might compare it with a vinyl but it's quite good enough to broaden my horizons on rock music. I had also friends who had the same passion in music so we sometimes exchanged the cassettes among us. After listening to the cassettes we sometimes had a hang-out to discuss the music we were listening to while sipping a cup of coffee in front of Train Station at Madiun, and ate nasi pecel (you may call it the daily bread of Madiun people). What a life!
Recently, I paid my trip back to past times …. the time when rock music grew steadily and creatively in the 70s by replaying back my cassettes collection which have already been with me more than twenty years. They still sound great and I really enjoy the sound because by doing so I can grab the nuance when the glory years of prog and rock were there. In the middle of that enjoyment, a friend of mine, Koni, introduced me to ASTRA. The first time I listened to this album couple of months ago I thought it was a band coming from the 70s era. But then I was surprised that this was just recorded in 2009. I don't actually believe it because the music and the sound are so seventies especially on drums, guitar and mellotron. I salute the band for successfully bringing back the seventies' analog sound in today's digital era. Well, it's not like when I knew Presto Ballet for the first time. Presto Ballet's debut album was promoting their return to analog technology as they put it in the CD sleeve notes. But unfortunately the sound was not that analog and seventies. While this album by Astra is totally seventies sound. I believe they are brilliant in sound recording. And the album title seems like conveying the message that they are 'weirding' us with this debut album because they have brought forward past limitations (in sound technology) as a choice to make this record.
With the above background, you might understand why I appreciate this album very much …
Well, it's actually not fair to say that all old sounds are not good. In fact, I was amazed with Genesis 'Selling England by The Pound' which sounds really great even though it was recorded in the 70s. You might find also Pink Floyd 'The Dark Side of The Moon' which is excellent in sonic quality of the record. But obviously many 70s records were capped in their sound quality especially with dull treble and thin bass sound (like you find in Ritchie Blackmore' Rainbow records or Led Zeppelin's 'Physical Graffiti'). Astra recaptures all the limitations of the past in sound quality in today's environment when we get used with great soundscapes of Porcupine Tree's records. Some of you might find it weird why these guys from Astra do this thing. But for me, it's a brilliant idea.
Mellotron-drenched and long guitar solo …
Musically, this band is heavily influenced by many legendary bands from Hawkwind to Eloy to Pulsar to Pink Floyd to Symphonic Slam to Tangerine Dream to King Crimson to Van der Graaf Generator. Blended together, they sound really nice. If you like long guitar solo with Gilmourian flavor backed with mellotron-drenched music, this is for sure fits your taste. The band has adopted two approaches in this debut album: song orientated and jamming orientated compositions.
As you might have been aware with my reviews, I always focus the review on two major dimensions: composition and performance. On composition, I always use five factors to analyze prog music: melody, harmony, complexity, change of styles and structural integrity. The main factors that are very obvious with this album are their skills in creating memorable melody for the song-orientated composition like the second track 'The Weirding' and making also excellent harmonies in the music. While on the jamming-orientated approach they demonstrate their musical skills with long solo throughout the music like those shown on opening track 'The Rising Of The Black Sun' and the fifth track 'Ouroborus'. They also make an excellent ballad like 'Broken Glass' with good melody and nice harmonies between vocal and acoustic guitar fills, supported beautifully with synthesizer and mellotron.
On complexity, they really start with a simple one and as the music moves they make it much complex and sometimes they sound weird. With weird sound especially on drums and sometimes guitar, the music really brings me back to the 70s era. The simple arrangement sounds like Symphonic Slam but it then moves steadily, even though slowly, to the next segments with more complex setting contributed by multi-layered keyboard / mellotron sounds as well as guitar solo. If you love long guitar solo, go for this album! It's really stunning!
Even though the music moves slowly but the band ensures the change of styles from one segment to another happen smoothly, sometimes through a change of melody and sometimes in guitar solo or keyboard solo which they do it excellently. For example on the last track 'Beyond To Slight The Maze' you might find the nice combination of changes in nuances from Pink Floyd 'Meddle' (especially 'Echoes' track) with the nuance of Steve Hackett 'Voyage to the Acolyte'. As the sound of mellotron sound quite thick in some segments you might forget that they actually bring us forward in a change of music styles. What should I say on structural integrity? What is it all about? It's all about how each song builds up the album in one cohesive whole. The answer is straight forward: Yes! You might listen to it from the opening track until the concluding one: there are many interconnecting dots that build up an album into one single message: It's weird man? (But I really enjoy it very much!). I can say the album marks well in structural integrity factor especially on these two points: 1.) It has successfully built the theme excellently, which fits with the album title 'The Weirding' ; and 2.) Composition-wise, it moves really well from opening to concluding tracks and they (the tracks) form a cohesive whole as an album.
In addition to composition, I need to put some words on performance. The guitar work is really stunning. The keyboard work is excellent even though sometimes it's quite boring. The vocal work is excellent and it fits with the music; in some segments he sings like Ozzy Osborne. Drumming is good but it could be more dynamics on some transition pieces.
Overall, it's an excellent addition to any prog music collection. It's hard nowadays to find band(s) similar with what Astra is doing. If you enjoy Eloy, Symphonic Slam, Tangerine Dream, Pink Floyd with some bits of King Crimson and Van der Graaf, this is for you. Don't forget to tell your mom that you still proggin' ?yeah ..keep on proggin' man …!
Peace on earth and mercy mild – GW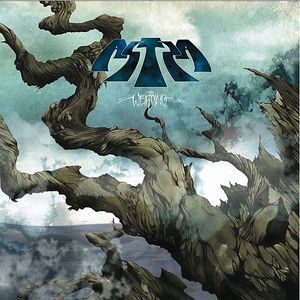 Studio Album, released in 2009
Songs / Tracks Listing
1. The Rising Of The Black Sun (5:44)
2. The Weirding (15:27)
3. Silent Sleep (10:41)
4. The River Under (8:41)
5. Ouroboros (17:23)
6. Broken Glass (3:45)
7. The Dawning Of Ophiuchus (5:29)
8. Beyond To Slight The Maze (11:36)
Total Time: 78:46
Line-up / Musicians
- Richard Vaughan / guitar, mellotron, echoplex, vocals
- Conor Riley / mellotron, arp odyssey, organ, guitar, vocals
- Stuart Sclater / bass
- David Hurley / drums, percussion, flute
- Brian Ellis / guitar, moog, vocals
Releases information CD Rise Above RiseCD120P (2009 UK)