JRENG!
Namanya juga blog gemblunk .. jadi ya postingannya gemblunk juga. He he .. Maksudnya…kalau ada permintaan dari pembaca mengulas sesuatu ya udah di posting aja dulu, biar saling bisa bagi pengalaman. Lha kalo Uriah Heep ini kan udah ndak asing lagi to sama kita-kita semua. Apalagi sekarang udah bulan Agustus, jadinya ya bisa nyanyi ini: "There I was on a July morning…Thet thet thet .. I was looking for love …thet thet thet …" (halah! Hari gini kok masih cari cinta yo??? Ha ha ha ha ha …).
Nama Uriah Heep pertama kali saya kenal saat rumah kami di Jl Sumatra no 26, Madiun baru memiliki sebuah tape recorder merek National Panasonic gara2 saya dapet hadiah sunatan sebesar Rp. 27.000,- Saya lupa harga tape recordernya berapa, tapi yang jelas dibeli di Pasar Kawak, Jl. Bogowonto, Madiun. Langsung setelah beli tape recorder itu mas Henky (kakak saya nomer 2 yang suka meratjoeni saya musik classic rock saat itu) beli juga enam buah kaset di toko foto Miraco di Jl Pahlawan Madiun. Rekaman kasetnya Nirwana dan Starlite seharga Rp. 500,- per keping. Kalau gak salah kaset-kaset itu termasuk diantaranya Uriah Heep 'Demons & Wizards', Deep Purple 'Who Do You Think You Are", Santana yang ada 'No One To Depend On'. Itulah pertama kali kami memiliki koleksi kaset dan pertama kali memiliki pemutar kaset, gara2 sunatan. Nuansamatik tenan.
Lucunya, kaset Uriah Heep rekaman Starlite ini side A nya album 'Demons & Wizards' dan side B nya ada 2 lagu dari Lucifer's Friend album 'Where The Groupies Killed The Blues' dan dua lagu dari Khan 'Space Shanty'. Inilah uniknya jaman bajakan .. kita mengenal band dari side B nya band terkenal. Masih inget saya, Lucifer's Friend nya ada lagu berjudul 'Hobo' dan Khan nya ada lagu 'Space Shanty' yang legendaris itu.
Kaset Uriah Heep ini sontak menjadi menu utama keluarga dalam hal memutar kaset sehingga ibu saya pun jadi kenal dan sayang sama Uriah Heep. Lagu 'The Wizards' itu menjadi kebanggaan di rumah kami di Madiun ..'He was the wizard of a thousand kings …' wuaduuuhhh nunjek ulu ati banget tuh lagu. Belum lagi 'Traveller in Time' dan 'Easy Livin' ,,… whoooaaa.. uediyaaaannn ….
Beberapa tahun kemudian barulah saya mengenal album 'Salisbury' nan dahzyat itu ….
Kami pernah dinner sama Uriah Heep lho di Jakarta, 2005:
Bagaimana pengalaman Anda dengan Uriah Heep ini?
Salam,
G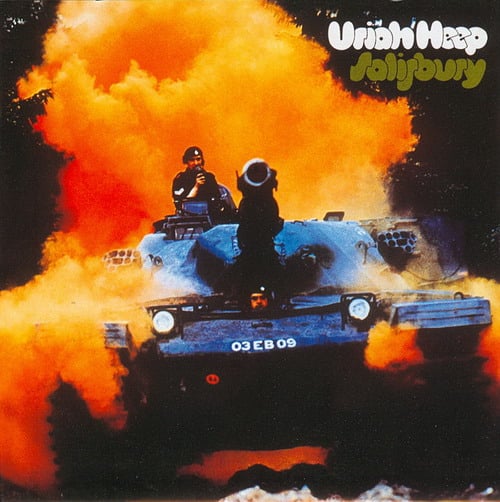 Somewhere in your eyes / That very special glow / Something drawing me / To where I do not know / I never really thought / That I would lose myself / Now I'm going faster / Than anybody else . – Uriah Heep "Salisbury"
This album is I think "the" reason why Uriah Heep is reviewed here in this website. Through this album the band worked toward composing an album that blends strong elements of heavy metal drive with the complexity of prog rock. When this album was released it was kind like scaling down their debut "Very Eavy Very Umble .." because in terms of song structure and arrangements the band had demonstrated a much mature music compared to debut. This what I would say as progression because the music moved forward into a stronger direction in what later be called as progressive rock. Highlights on the album include "Bird of Prey" which has a powerful chord-fueled verses with keyboard-drenched interlude part. A folk-based acoustic song "Lady In Black" that brings us into a throbbing rocker with stunning and crunching guitar riffs. The album also features a touchy ballad-oriented song "The Park" that sparks the powerful voice of David Byron combined with etheral keyboard and acoustic guitar. This was really the track that color the days of my childhood and we used to sing along the melody, emulating Byron's lyrical verses. The harmonies produced from Byron's unique vocal and Hensley keyboard is truly awesome.
The title track "Salisbury" was my first introduction to this album and finally I bought the Monalisa cassette format right after the ilegal rock radio station called Blue Jean Racing in Bandung frequently aired this song. This long duration song has become my all time Heep favorite track. This 16-minute plus track occupies the largest space in this album. This prog epic starts off with a relative long exploration of brass and woodwinds work that would later characterize the main body of the whole epic. The music begins in relatively quite and slow passage and as the falsetto voice of Byron enters the scene the music moves into a crescendo with strong emphasize on brass section. The keyboard solo during instrumental break has an excellent combination of jazz and rock style during long instrumental break. The overall flow of this track contains segments with high and low amplification to accentuate the song's message. Segments where Byron enters the music at beginning of bar have a very nice and well positioned entry point. As a result it produces terrific experience for my listening pleasure. When I finally purchased the remastered CD version sometime in 2000 I have had a habit of repeating this track at least for the second time; including this time when I put some words about this track. It's truly a masterpiece song – for my personal taste. Great harmonies, great orchestral arrangements, great insertion of keyboard and rocking guitar solo that's Mick Box's unique and powerful compositions (structure and arrangement).
Other tracks featured in this album: "Time To Live" and "High Priestess" are another Heep's style excellent rock music. I have upgraded this album to the Sanctuary's 2003 and 2004 reissues of Salisbury with newly remastered, featured expanded artwork and slipcase packaging, and included alternate versions, B-sides, and BBC sessions. The reason is because I like Uriah Heep – be it a prog or non-prog music; it does not really matter to me because music is emotion. These gentlemen have stirred my emotion and this album is recommended!
Progressively yours,
GW
Studio Album, released in 1971
Songs / Tracks Listing
Side A
1. Bird Of Prey (4:05)
2. The Park (5:38)
3. Time To Live (4:02)
4. Lady In Black (4:33)
Side B
1. High Priestess (3:39)
2. Salisbury (16:02)
Total Time: 37:59
BONUS TRACKS ON 1996 REMASTERED CD:
1. Simon The Bullet Freak (3:27) originally single b-side, also on North American versions of 'Salisbury' (1971)
2. High Priestess (3:13) edited version released as a single
BONUS TRACKS ON 2003 EXPANDED DE-LUXE CD:
1. Simon The Bullet Freak – single b-side (=US album version)
2. Here Am I – out-take, previously unreleased version
3. Lady In Black – edit, previously unreleased version
4. High Priestess – alternate version
5. Salisbury – edit, previously unreleased version
6. The Park – alternate version, previously unreleased
7. Time To Live – alternate version, previously unreleased
Line-up / Musicians
- David Byron / lead vocals
- Ken Hensley / organ, piano, slide & acoustic guitars, harpshicord, vibes and vocals
- Mick Box / lead guitar, acoustic guitar, vocals
- Paul Newton / bass guitar, vocals
- Keith Baker / drums
- John Fiddy / brass and woodmind on "Salisbury"
Releases information
1971 UK: Vertigo 6360028, re-released 1971 as Bronze ILPS 9152
Re-published by Castle Communication PLC CLACD106 (1988)