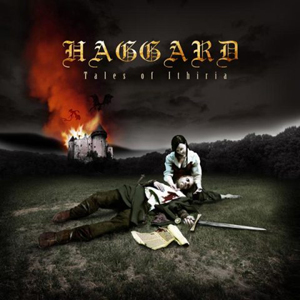 Tales Of Ithiria
Haggard
Crossover Prog
Review by
Gatot
Special Collaborator
Honorary Collaborator
Wonderfully-crafted concept album, masterpiece composition!
I have been listening to this brilliant album more than 25 (twenty five!) spins in its entirety. And until now when I am writing what it's gonna be a long, novel-like, review I have never been or will never be bored with the music offered by this wonderfully-crafted album. There are two significant reasons that have made me entangled with this album especially enjoying it in its entirety. First, this album came to me just one day after israel attacked Gaza in December, 2008. The situation I experienced was in sad mood watching news on television and newspapers that many civil people, especially women and children were killed by tanks, apache and rockets. No human being will accept the situation, I am pretty sure about it. It's not that I am a muslim, but the issue is truly a fatal tragedy in human rights. How can you let women and children being killed while the rest of the world were just sitting and watching the news? Unbelievable. And under that powerlessness, this album came to me. It blew me away at first spin because the nuance that this concept album creates is in away similar with what happen in Gaza. Well, even though the story of Ithiria is actually fictious, but the nuance created fits the situation of Gaza, really. Well, at least for me, especially.Second, apart from subjective situation I was experiencing by the time I had this album, this is a true masterpiece as it has successfully combined the heavy stuffs of power metal music, great and killing melodies of every single song as well as bridges between song, and well-crafted composition by merging all classical music string sections into heavy nature of the music, and solid story-line. It's not it! Most people are actually do not like growling (refer to research conducted by Classic Rock magz where 75% of its readers do not like growling vocal). But with this one by Haggard, I think most people would love the growling vocal style offered here: it's heavy, pretty clear and so powerful! In fact, whenever I listen to this album I always expect when the growling part will take place.
This album has much more to offer as it also has …
a great narration that sets the overall tone of the album …
The Origin (1:57) kicks off the album brilliantly with a heavy narration backed with beautiful string arrangements. Imagine you are in a dolby-stereo surround theaeter where the Lord of The Rings movie starts to roll. It's something like that you might be experiencing when you start this album using decent home stereo in loud volume, in order to get the subtleties of the music. Well yeah, you should scrutinize any detailed sound produced by this album because you must get it right. As the narration rolls with the story of the Ithiria, the story before the war that gives complete picture about the situation. Observe when the narrator says "But it has not always been like that". I bet you love the sound produced by this record. Don't stop there, follow the next sentence: "1700 Years ago, during the celebration of the two moons .." you will be blown by the sound when he says "two moons" .. oh man .. it's so powerful and inspiring! And .. the peak of the peak of this wonderful narration is when the phrase is said in inclining mood: "And it seemed as ïf all hope had been forsaken.". Oh my God ….this is truly great!
Tales Of Ithiria (8:07) is a very logical follow-up right after the inclining narration ends up beautifully. It flows with great duet male and female vocal with high octave notes followed with melodic and killing melody string section combined with stunning acoustic guitar. The mood is so sad ..it depicts like Palestinian who starts to defend their land. "My son, now listen what I say: Keep in mind what you have learned Wrap your fingers ,round your sword. Maybe you will not return. Thousands that we once have been. Only a few are still here. I've to give this sacrifice…" hmmm what a great speech by dad to his son! What follows is a melodic clear vocal by male followed by powerful voice of growling vocal says "… oh, the autumn brought us fear!". Wow…! Man …this is the most powerful growling vocal that I have ever heard so far! The music that follows is basically a great (and weird?) combination of heavy riff power metal with maneuver of string arrangements using violin, cellos and other instruments. I find many surprises demonstrated by this song. There is a dark and sad mood combined with heroic yells through the growl.
Well .. I believe if you have open minded progressive ears, you must love this song. There is no reason for disliking it as it offers the beautiful combination of choirs, heavy riff metal music, wonderful string section and melodic notes all over the song. The structure of the song is also progressive as it moves in unpredicted way but every single move is done smoothly.
From Deep Within (0:26) is a narration that provides a transition to the next track "Upon Fallen Autumn Leaves". Again, this narration is great and it guides us to the stage where by the time arriving at his farmhouse, he saw his father's lifeless body pinned to the front door by two arrows. It's a sad happening, really.
Upon Fallen Autumn Leaves (6:38) starts nicely with a classical music intro, similar with what Rhapsody (of Fire) has ever made. What makes this song unique is the high register notes the female vocal followed powerfully with deep and wonderfully growl "Moonrise …On my path…" supported with white-knuckle speed guitar riffs and double bass drum in typical power metal scene. This is song is the combination of heavy side of power metal, classical music, melodic singing, clean and growl vocals and string section with cello / violin. In fact the string section has successfully demonstrated the ability to do riffs that usually delivered with electric guitar. In this case the electric guitar riffs provide the foundation for the riffs produced by the string section riffs. It's a fabulous idea, indeed.
The Germany lyrics that the female singer sings "Als ich nun wand´re auf dem Pfad…" enriches the song nuance, coupled with many breaks followed by male growling vocal. "Suddently ..Along the mountainside" . What I consider as the peak of the peak of this song is the part where the singing is performed in choirs fashion using this lyrical verse: "Requiem aeternam dona eis, Domine / Et lux perpetua luceat eis / Te decet hymnus, / Deus, in Ithiria / Sanctus / Dominus / Quid sum miser tune dicturus / Requiem / aeternam. Il mistero / Valli di Ithiria.". The choirs flow beautifully in an inspiring mood. The great and expected segment is the growling vocal That dimmers deep within / Night at Gildeon´s Woods. And the peak has not finished as it continues with heavy, powerful and wonderful growling section starting with Did you ever wander? / And you got lost on secret paths? Oh man .. I like this part. And the most beautiful segment is the subtleties produced by organ sound at minute 4:00 when the lyric says That saved you from the dark. Oh my God .. this is truly great. The growl yells again with "Moonrise…". And then the similar choirs style follows with Germany's starting with Wenn auch die Hoffnung in mir schwand..
In Des Königs Hallen (2:05) is a nice instrumental in dark nuance that serves beautifully as a bridge to the next track. It comprises a nice combination of organ / keyboard and string section with classical music style.
La Terra Santa (4:56) is another great track which starts in sad mood using classical music string section with killing melody followed with deep, heavy and clean male vocal in narration style (a bit). The way the male vocal sings depicts the situation of the war quite well. At the end of the second verse of the lyrics the vocal moves smoothly from clean to growl Oh God, don´t let my heart be WEAK tonight. This song serves as a motivational part for those who want defense their land against the attacker or Zionist. You might have known that Roger Waters in his album "Amused to Death" did say in the "What God Wants" song where God wants jihad , it seems like the similar situation appears here. And the hero tells the young with great and inspiring motivational words: I hope you don´t fear Neither do I / Bring me my sword / And kiss me goodbye / This time I hold you / Here in my arms / Will be the last. I am really touched with this segment especially with the perfect words used here. To me it transcends the situation in Gaza perfectly where young men were permitted by their mother to defense for their Gaza land expecting the highest return if they die as syuhada (seek the blessing of Allah The Merciful due to the jihad they have made). The sad situation is when the lyric says "When Ithiria falls … When Ithiria falls".
Vor Dem Sturme (0:36) is a narration that says : Marching long and far, day turns to night. Scattered campfires flicker on 3000 mighty warriors who sharpen their swords and axes, never knowing ïf they won't return.
The Sleeping Child (6:12) starts with classical music string section followed with power metal music in high speed. The first vocal part is a male growling vocal followed with choirs section after two lyrical verses performed. The blend of power metal and classical music is really nice here. The female vocal also delivers in its best high register notes followed with string section maneuver that indicates the return of the music to power metal scene again.
Hijo De La Luna (4:21) is a mellow song with female vocal sings in non-English language backed with classical music as its foundation. The string section serves as main component of this song even though the music has heavy guitar riffs as well. Whenever the music requires some accentuation, the guitar riffs serves as main platform of the vocal to sing. In every transition piece the string section serves critical role. It's a catchy tune.
On These Endless Fields (1:04) is basically a narration towards the end of the story and it depicts the situation where the war fields have always produced battles between two sides – it's similar like Gaza, isn't it?
The Hidden Sign (6:25) confirms that all tracks provided with this wonderfully-crafted concept albums are all excellent as this one starts with classical music followed with the powerful guitar riffs. The interesting part is, off course, the growl vocal that follows. Not only that, the break section after the growl singing where the keyboard takes its part as a symphonic music (approx minute 2:00) followed with great female choirs and growl. Oh man .. it's really great. Piano is also used in some of the breaks to strengthen the classical nature of the music and confirms that this album is rich with textures, strong in nuance, solid composition.
In Conclusion…
What can I say more about this album. And excuse me my friends .. I do not intend to bring you into this level of detail and long review that makes you getting bored with it. My apology on that. My intention is to make a high appreciation on this brilliant concept album. In fact I did try to write the review sometimes ago but I could not make it as the more I listened to it the more I think I should add. If you ask me to rewrite again next month the list of good things will come up on my next write-ups. But I should end here this time as it has been now three and a half pages of write-up already. It's probably the longest that I have ever written for any music review. I can not help it.
I can only recommend you to buy this album and have your opinion about it. I bet you will view it at least four stars rating. Well you can discount my five-stars rating due to my subjective view about this album. Hey, this is similar like when I heard Marillion "Script for a Jester's Tear" at the first time in 1983. I repurchased the cassette three times because the cassette worn out due to many spins that I made. If this "Tales of Ithiria" is in the form of cassette, I might have done similar with Script. There is no single day since December 28, 2008 that I do not play this album in its entirety. It's like my daily bread (well ..in my case is "rice" because Indonesian prefers rice than bread).
A true masterpiece. Go get the cd!
Peace on earth and mercy mild. Keep on proggin' …!