KING CRIMSON — The Young Persons Guide To King Crimson
Review by
Gatot
(Gatot Widayanto)
Special Collaborator
Honorary Collaborator
Great compilation after Fripp put the band on hiatus in 1974
Talking about prog music compilation, any prog band must learn from King Crimson "The Young Persons Guide to King Crimson" because it describes the band's varied music styles from its debut "In The Court of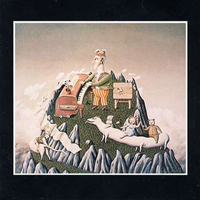 The Crimson King" (1969) until "Red" (1974). With seven studio albums that had been released, it was the right time to release a compilation. The title was inspired by the famous orchestral work "The Young Person's Guide to the Orchestra" from composer Benjamin Britten or the 1960s television series Young Person's Guide to the Orchestra, created by conductor/composer Leonard Bernstein.
My friend had this compilation in double LP format which we used it for radio station broadcasting program in Bonkenk, Bandung. I remember vividly we played "Cat Food" and "The Night Watch" on the air. I really love this compilation. My version is still in cassette format and I still cannot find this compilation in CD format. But it's OK as I have owned all individual seven albums. The only think I miss is the different version of "I Talk To The Wind" with female vocal here. That's why I still keep my cassette, because it's so memorable having this version.
The set starts beautifully with dark melodic "Epitaph (8:52) including March for No Reason and Tomorrow and Tomorrow from the debut album "In the Court of the Crimson King" (1969). This song has always been very special to me when I am visioning life (after death) because the lyrics that Pete Sinfield wrote reminds all of us that at the end off the day we will all be gone from this world and we will live to another world. The challenge is truly how we get prepared ourselves during our lives in this world for a much better life after death. It's a very compelling lyrics "…but I fear tomorrow I'll be crying …" supported by great music composition with mellotron-drenched sounds. The journey continues to another mellow and dark Cadence and Cascade (3:36) from "In the Wake of Poseidon" (1970).
Another great characteristic of King Crimson music combining mellow and heavy drive style is indicated by the next track "Ladies of the Road (5:27) from "Islands" (1971). Even though from "Islands" I like "Formentera Lady" but I am OK with this selection. The band brings us back to the debut album I Talk to the Wind but this time is different than the studio album "In The Court of The Crimson King" especially on the vocal department: sung by Judy Dyble (Fairport Convention) instead of Greg Lake. This was recorded at 93A Brondesbury Road, London, UK, July 1968, available on The Brondesbury Tapes (1968) under the name of Giles Giles & Fripp. The compilation also features two tracks from their latest album at that time, "Red" (1974), i.e Red (6:18) and Starless (12:17).
On LP2, it starts wonderfully with "The Night Watch (4:38) from the album "Starless and Bible Black" (1974) which delivers different music style. "Book of Saturday (2:52) from the album "Larks' Tongues in Aspic" (1973) has been my all-time favorite. It's a mellow track with great vocal line and stunning electric guitar played in unplugged style. I really love this track and I used to replay this song when I spin the album. "Cat Food from the single Cat Food/Groon (1970) is also another all-time favorite of mine. It's better played seamlessly with Groon (3:30). An abridged version of "Moonchild" from the debut album is also a great song. The compilation concludes with the title track of debut album The Court of the Crimson King (9:21).
Overall, this is a masterpiece boxset collection that any prog lover must have it. You might find this compilation is hard to find because it's OOP already. Keep on proggin' ..!
Peace on earth and mercy mild – GW (i-Rock! Music Community)
Report this review (#184925) | Posted Tuesday, October 07, 2008, 03:09 EST
Review Permalink | Submit a review for this album | Buy this album from PA partner