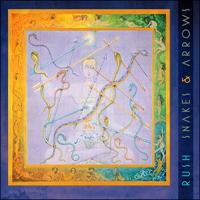 Art Rock
(Studio Album, 2007)
Avg: 3.74/5
from 53 ratings
RUSH — Snakes & Arrows
Review by Gatot (Gatot Widayanto)
Special Collaborator Honorary Collaborator
Phew! Having listened to this album more than ten times already, it's about time to express my view about it. First off, thanks God, these gentlemen from Rush finally released an album of their own after an appreciation (to legends) album called "Feedback" (2004). It proves that this legendary band is still being productive with their music creation and we all should be proud of this achievement. They still demonstrate their virtuosity in their respective fields and no doubt about it at all.
Let me ask you simple question: how do you actually appreciate music in general and prog rock in specific? Do you appreciate the music or the lyrics or combination of both? If you appreciate more on the music first, how do you actually weigh the lyrics against your overall appreciation which is typically represented by a rating (one to five stars)? If you appreciate more on lyrics, how do you weigh the music against your overall rating? Tough question, isn't it? Well, that's also the case with me – honestly.
Let me tell you how I actually rate a music (note: because I'm more into prog music, I wanna limit this on prog only). First, I try to comprehend the music composition as a whole. I always start from opening track until it finishes its entirely in a particular album. I'm much more inclined to appreciate at album level and not interested to review at song level. The test meter for doing this is "how coherent" the album from track to track. Is there any discontinuity of style and themes as the music moves along? Spock's Beard latest album (2006) is a good example where I say that the album is not quite coherent. There are tracks that discontinue and disrupt the overall theme of the album – in my humblest opinion. Second, I would scrutinize at track by track level to give an individual rating for each track. Track by track rating results add up into overall album rating. I have been very little to give enough attention to lyrics even though in some cases I do like to see from this perspective as well.
Why giving you a long background to review this new album by Rush? Well guys … I got problem here that you might be able to help. I got the CD on a loan basis from a friend of mine, Zulfikar, a die hard fan of the band. Countless have I spun the CD at my player and, in fact, have ripped it into my iPod. I think it's more than 10 spins (on CD) plus some others in my iPod, and this is my experience:
First off, the music is really excellent and the composition is quite tight from one track to another. I'm proud with Rush who still can compose good music. Is the album coherent? I would definitely say: YES! From the opening track until the end the album sounds to carry a coherent message which I can feel it without having to understand the lyrics. Once I answer this, I still have something back in my mind which says "Hmm … it seems like something missing in this album even though each track is good to excellent ones".
Then I move it to the next cycle: scrutinize on track by track basis. I do enjoy doing so and I find there is no bad track at all I think. Some tracks are excellent like "Far Cry" and also all instrumental tracks are excellent. But again, I still find something is missing in this album. Then my colleague Zulfikar gave his thoughts that the lyrics are so powerful – so I did read the sleeve and digested the meanings. Yes, I do agree with him, the lyrics are so powerful. But for me, it does not help improving my appreciation towards this album. I would say that overall this album does not provide a good combination of ups and downs in the composition so that overall it sounds and it feels so flat. It boils down to the feel that this album does not quite stir my emotion.
Overall, this album is good but there is nothing that truly catchy from the music it produces. In Indonesian language, we have a good expression that I cannot translate (sorry!) to English: "gak ada greget nya". It can mean :"there is something missing" (but it's not as powerful sentence as the original Indonesian version). For me personally, this album sounds like a combination of the band's "Signals" and "Power Windows" albums. I leave it up to you to make final call whether or not to purchase the CD. Anyway … Keep on proggin' ..!
Peace on earth and mercy mild – GW
Posted Tuesday, June 19, 2007, 06:04 EST
Review Permanent link | Submit a review for this album