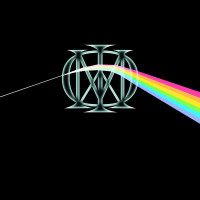 Progressive Metal
(Live, 2006)
Avg: 3.65/5
from 13 ratings
DREAM THEATER — Dark Side Of The Moon
Review by Gatot (Gatot Widayanto)
Special Collaborator Honorary Collaborator
It's really like Pink Floyd!
I have enjoyed rock music since I was a 14-year old boy in a small city in Indonesia. At that time there were many cassette offerings with various kind of music. Especially for rock music there were varieties of groups from Deep Purple to King Crimson. I knew Pink Floyd "Dark Side of The Moon" sometime in 1975 and really amazed with the kind of music the band plays. Because I was more familiar with straight rock, I could enjoy "Money" and "Time" easily without any barriers at all. In fact, I used "Time" as my wake up call using a timer. When this album was available in CD format, I purchased it right away and I think it was some time in the end of 80s. I did not have the CD player because I could not afford it. With this CD I also purchased Marillion's "Misplaced Childhood" even though I already had the LP.
Another one or two years later I could afford to buy a CD player and I did enjoy Dark Side of The Moon very much. The album actually has no complex arrangement at all but it does have an awesome soundscape and effects. I admire this album from this standpoint as well as the tight composition. I was kind like having an imagination that this album would be very tough to be emulated the same as the studio album because it has varied effects and wonderful soundscapes. In fact, in my collection of laser disc that features Pink Floyd live, performing some songs of Dark Side of The Moon, I could not sense the nuance and "soul" of the album on live performance (even by Pink Floyd themselves!).
But … just couple of weeks ago I had a chance to enjoy this live set by Dream Theater and it BLEW me away at first spin.
WHY?
First off, Dream Theater can be considered asthe most popular progressive band in the world today. Look at this page and the post at the top right of HOME page where its latest album "Systematic Chaos" has been the most popular album with hundred plus reviews where the abum has just officially been released early June 2007. Many youngsters think nowadays that progressive music is Dream Theater while Dream Theater is progressive music. That's FACT that we all cannot deny. It seems awkward and weird if you find youngsters who claim as they like rock music but they don't know Dream Theater. Give me a break!Their music is really specific and they have their own character. No one would doubt their reputation.
Second, Pink Floyd is a legendary progressive band who laid their strong foundation since the psychedelic era of end 60s. The Dark Side of The Moon represents the band's ultimate achievement as it stayed for long period of time at Billboards top chart. Anyone who love rock music since 70s or 80s period would definitely know who Pink Floyd is.
Third, Dream Theater performed (live) Pink Floyd music wholeheartedly so that it created very positive image for the band. I would say that their performance for Dark Side of The Moon is very close to perfect. The Dark Side of The Moon was presented in almost exactly the same with what I listened to it during my childhood. I was really amazed on how Portnoy switched his style completely to have a drum sound which is very very close to Nick Mason's. Petrucci also retains his self-indulgent through emulating David Gilmour's guitar sound. Jordan Rudess also plays very similar like Rick Wright. I guess John Myung plays standard 4-string bass for this performance. All add up beautifully in PINK FLOYD's SOUND! In addition, LaBrie vocal is of course cannot deny that it's not as closer to Roger or Dave. But that's okay because it's a God given thing. The track that I was affraid the band could not perform well was "The Great Gig In The Sky". I was wrong! The band performed wonderfully with additional lead vocal by Theresa Thomasson. WOW!!!!
Fourth, covering legendary band like Pink Floyd means to me that Dream Theater (with its big name and brand) appreciates the legendary band (PINK FLOYD). On the other side of the coin, this cover version will give a chance for younger people to know one of the world's best progressive bands in the 70s that most of us must remember.
On top of the Dark Side of The Moon, the band also covers other Pink Floyd tracks. "Echoes" is performed in a close perfection. The toughest thing is "Comfortably Numb" especially during openig track with its unique ambient. This version cannot get the nuance very well even though the overall performance is excellent.
Overall, this is an excellent addition to any prog music collection. It's a MUST have for any of you who love prog music. Keep on proggin' ..!
Peace on earth and mercy mild – GW
Posted Saturday, June 16, 2007, 05:30 EST
Review Permanent link